Pre wedding session - Snowdonia couple photography
(Posted on 11/09/18)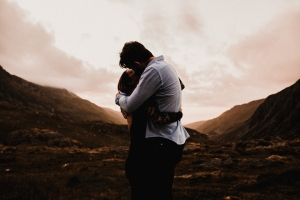 Bee and Johnny contacted me over a year ago to book in for their very special ( indeed ) 10 year wedding anniversary. Bee and Jonny were not particulary over the moon with their original wedding photographs from another photgrapher and have always wanted to have some intimate , dramatic and beautiful images to cherish what better time to do this than 10 years on from tying the knot!!! North wales was our location of choice! Snowdonia to be precise!
We had the best time hiking up the mountains, the sky was golden and filled with fluffy clouds in on direction and the other was filled with dark ominous looking clouds and fog....It looked unworldly and will be one of the special sessions I have had the pleasure of sharing. I was desperate to give them the images they deserved and I hope they treasure them for a lifetime
If you would like to know how to book a pre- wedding session , 10 year anniversary shoot or your wedding photography then please get in touch and say hi ?