A rainy Pre wedding shoot, Cwm Idwal, Snowdonia - Bethan and Scott
(Posted on 13/05/17)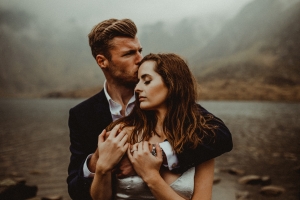 Soooo, today I tried something new! I shot selfishly, I didn't shoot for anyones tastes, preferences or rules but my own and ....I think I've learnt something about myself and what it truly means to be an artist!
Of course I want my couples to love their images, but sometimes when i sit infant of a couple who have handed me a list of a zillion formal photographs i wonder if they really have any idea what theyre setting themselves up for on their wedding day!! 'oh but Mum really wants this line up , and my Aunt lily has 17 requests also '
Is this how you want to look back on your wedding?? Looking through lineups and stiff shoulders and fake smiles in a weird natural line ?? Yuck, heck no!!! Yes ok ok, admittedly everyone has a couple , but keep it to just a couple and we can have fun with them and spend more time doing things like THIS!!!!!
How do you imagine you will look back on your wedding day???? I know how I'm going to look back on mine, not a single formal in sight!! xxxx