Weddings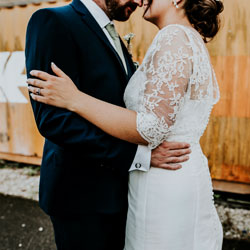 Ok so you're here, wondering if you should hire me for your wedding photography! or wedding film fusion?
This is, I repeat, a collaboration.
Are you energised? off cuff? happy to throw away the rule book . The degree to which you truly experience my 'art' is to the degree of which you must join with me to create something fierce and new and BOLD!
I have captured over 300 weddings, I tell you this, no one knows more than me how to have fun doing this! I want to share this with you, I will share my soul and pour my time and energy into your day I just ask you can return the same energy. I will listen to you. I will absorb it all.
I will walk and talk you through from the moment you book until you receive your final gallery or products. I am directional with a splash of gentle ...fabulous at communicating what I want from you on your day, you will never feel lost, we will be having the best day of your life!
I think it's invaluable to share all my tips on achieving great wedding photography so be assured I will guide you with all my knowledge in either pdfs or hard copies with you. Want to know more? Please say hi and tell me a little bit about your day and I will send you an e-brochure <3