Amy and Tom - Oddfellows wedding.
(Posted on 13/05/18)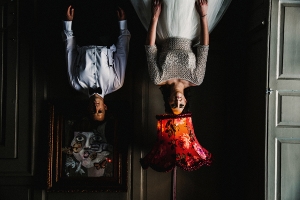 Oddfellows , by its own admission is filled with 'character , charm and little bit of odd!
Its just one heck of a cool and contemporary Georgian building nestled just off the heart of Chester city centre on lower bridge street. The front of the building is quite understated yet magnificant but its only when you enter the double doors and rise up the steps do you see all the little crazy hints to Lewis Carrols , Alice in wonderland. Theres one room purely commited to the Mad hatters tea party with furniture coming off the ceiling.
The boutique hotel has been know to appeal to creative proffessions and anyone who is happy to be outside the box , a misfit if you like , its literally every photographers dream to photograph a wedding here and its certainly mine! They even have their own mixologists to whiz up a crazy cocktail or two for you to head over to the secret garden ( aka sun trap , heaven )
Amy and Tom both have a forces background and I can see why they chose this venue above all other venues , they wanted an informal , fun day and to explore something different! The entire day was filled with laid back air and also lots of highly charged emotional moments, just my cup of tea!
Amy and her bridesmaids held their wedding preparations in a charming suite beyong the secret gardens. The room is a duplex style and just perfect. Less about the room Carla !!! Ok , so Amy had hair worthy of any pinterest board made perect by her close friend and had matching crytal embellsed heels to perfectly compliment her Maggie Sottero gown.
Well.... I have been know to take my couples on a little adventure from time to time if circumstances allow and this was no exception, we had a quick wonder down the city centre streets , running towards the river dee and back again, finishing up at the Mad hatters lounge.
Such a gorgeous day , I always love this place - take me back....
If you would like more info on how I can become your wedding photographer or see more city centre weddings , please say HI
X