Thailand wedding photography -Nikki and Lewis
(Posted on 29/03/18)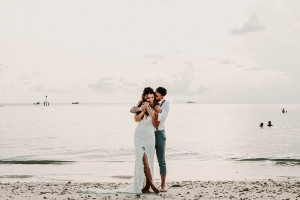 Nikki and Lewis chose to hold their beautiful wedding at Nice Sea Resort in Koh Phangan , Thailand. When I learned that Nikki and lewis had chosen me as their Thailand wedding photographer I may have been forgiven when squeeling and doing a little happy dance randomly while my family continued to watch the television!!
Nikki and Lewis chose the idyllic resort Koh Phangan and Nadine of phangan weddings helped transform their dreams into reality. I started my trip off in london and flew to Bangkok , the flight wasnt terribly long and filled with film choices and an abundance of drinks and foods from this exciting country. We decided to spend a couple of evenings in Bangkok , krabi , Koh Tao , Koh Samui and lastly but by no means least , Koh Phangan.
As you arrive at the beautiful island , usually by Catamarran you pass through a small jewel encrusted passage filled with fisherman huts floating on the water and the ocean is clear and bright and enticing. I couldnt wait to photograph this beautiful wedding in Thailand, the bridal party had the beach front villas which had endless views of the ocean . The ceremony which was laced with parasols and fairy lights looking onto the white coral filled beach and the sound of the water lapping was perfect as the couple celebrated in Koh phangan for their special day.
Nikki wore the most beautiful Grace Loves Lace wedding gown and there was so much love to be seen as the sun went down and they made their vows at 5.30pm. Laid back bohemian , raw and natural wedding photography. Im so excited about the next 18 months , I will travelling to Paris , Sorrento , Oslo , Italy , France and more. To see more destination samples please take a peak here If you would like more information on your destination wedding photography say hi .
Much love
Carla