Rohannah and Luke - Cripps Barn
(Posted on 08/08/19)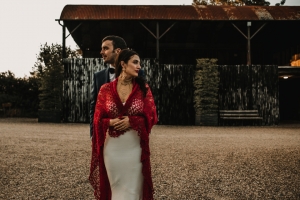 Rohannah and Luke ..... oh how since day one when they emailed to make this official I had been building a picture in my mind of a quiet shy couple. Oh how wrong can a girl be?? I arrived at the waters colllection and quickly learned that Rohannah is an incredible human ....Greeted with the most sincere and squishiest of hugs , the kind that can uplift you emotionally! Rohannah and her bridesmaids spent the morning casually enjoying having their hair nd makeup done before heading over to Cripps barn for the ceremony.
The ceremony was held outside in the middle of the walled garden , something reminiscent of a fairy gathering. The seating arrangements were circular which is soooo intimate. Rohannah wore so many amazing items to include a pronovias gown with capped off shoulder sleeves , earrings by a prussian designer and a veil that ran for miles.
Luke was somewhat nervous but this disappated once the humanist ceremony had finished. I particularly enjoyed seeing the front row of children cover their eyes while Rohannah and Luke had their first kiss.
After some garden games , portraits and canapes everyone sat for what was to be some of the most moving speech I have yet to witness. Rohannahs grandparents had sadly passed away prior to the wedding day but what she didnt know was that htye both had written her a letter and this was read .... everyones heart broke a little hearing such a heart felt memoir of her life and their love for her. If this wasnt perfect enough , Rohannah then stood ... and delivered a speech that my words can do no justice for. Sassy , articulate , funny , intelligent (crushing) and ended with the poem from 10 things I hate about you ...q more tears!
Later , we went back into the golden corn while the sun was setting and Rohannah had changed by this point trading her veil for a golden egyption style neckchain and blood red crochet shawl handmade by her new mother inlaw.
Throw some smores in there and marshmellows , with a laid back evening vibe and you have a pretty perfect wedding day.
If you want to say hi and ask about availability say hi x