Palm House wedding , Sefton Park
(Posted on 20/06/18)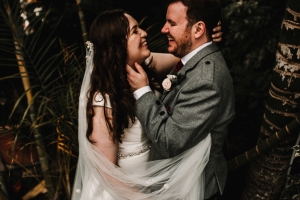 Wow , If you love all things botanical , equisite plants , and exotic flowers , earthy , beautiful , oragnic etc etc , then the Palm House at Sefton Park could be a strong wedding venue contender , its just insanely stunning.
The Palm house is located in Liverpool city centre and was originally built in 1896 , the Grade II* three-tier dome conservatory palm house was designed and built by MacKenzie and Moncur of Edinburgh. Following some years later a period of disuse the Palm house even closed and eventually skipping a 100 years of history or so it is now run as a wedding venue to be envious by all venues.
When Megan and Andrew chose me to become their Sefton Palm house wedding photographer , I cant hide the inner gardning child within ( haha my husband will lb laughing at this ) did a little ' whoop whoop' because this has been a venue I have been itching to photograph for the longest time!
Ladies and Gentlmen , it did not disappoint!
I arrive at the Malmaison hotel in the centre of Liverpool and was greeted by the innitially quietly but bright and beautiful faced Megan , her face actually radiated with pure happiness , her words were ' Im full of positive excited energy '
Sarah Meredith was on hand to transfrom the ladies for this special day and she was fantastic , she alwasy works wonders and I cant recomment her enough!
Fast forward a couple of hours we are mid ceremony and now , I knwo a wedding day is a happy occasion for anyone , but now these two , Megan and Andrew were just burstin with the happy energy as though they were one anothers oxygen , its was really something I cant quite put into words , a poetic love story , filled with grinning faces and glazed eyes, ive never expereinced anything quite like it before. I think the band , qaurtet under the covers were also the most perfect sound to have accompany a bride and her father down the aisle , theyre were spine chillingly awesome , check them out!
Also , Tamaryn of Tamaryns Treasures created the most perfectly complimentary display which has been carefull crafted, sympathitcally to enhance its surroundings .
Gorgeous day and I feel utterlly lucky to have been able to share with them both. To find out more on how I can become your wedding photography say hi :)