Merris Court wedding photographer - Hayley and Luke
(Posted on 01/10/18)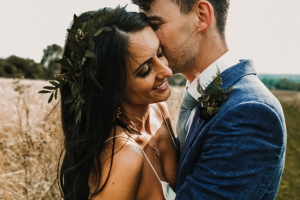 Are you looking for a beautiful wedding nestled in the heart of the cotswolds ? Take me with you please to this breathtaking wedding venue , Merris Court on the border of Oxfordshire and Gloucestershire. When Hayey and Luke's email hit my inbox in Jaunary asking me to be their Merris Court wedding venue , I was excited to say the least!
Merris Court has three barns to choose from and Hayley and Luke chose the stone barn with a rustic but elegant feel at this idylic venue and if thats not enough , the venue is surrounded by more that 500 acres of glorious cotswold countryside. Its absolutley stunning Merris court view are panormaic. Upon arriving I could see why this wedding venue was eerything Hayley and luke have ever dreamt of , its such a very magical place.
Hayley chose to hold her bridap preparations at Woodstock , a short drive away and arrived in complete style in a beautiful Bentley. On arrival , Hayey waited behind a huge curtain whch was pulled back to reveal a breathtaking room filled with hers and Lukes favouote loved ones and they held each other with smiles from ear to ear thorughout the ceremony.
Hayley wore a dress by the Row which you can thank Net-a-porter.com for and was incredibly stylish , there had been some earlier dress disputes as Hayley had originally chosen a Pronovias gown bu on the wedding morning a quick cat walk for her bridesmaids resulted in this contemrporary minimul wedding dress and it suited her wedding perfectly. Hayley and Luke also have some great taste n their jewellry choices and if you havnt already you need to head over to Zoe and Morgan beacsue whether its earrings , stacking rings or more fine art wedding and engagement combinations youre after these guys have it nailed.
This natural stone barn is such a beautiful Cotswolds venue.
Hayley and Luke had other ideas for their wedding evening and Grandma very kindly alowed them loose on her grounds to create a very boho , tipi , Gin themed inspired venue and the whole day from start to finish was anything other than boring!!
If you would like to take me with you as your Merris Court wedding photographer , then please get in touch asap , 2019 is almost full and I am now booking 2020 and 2021.
lots of love xxx