Carbis Bay , St ives , Cornwall - Louise and Alexander
(Posted on 04/06/19)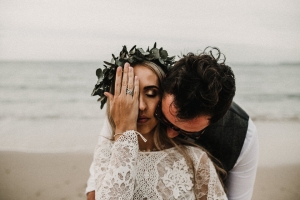 Louise and Alexander enquired about having their wedding at the stunning Carbis Bay Estate , a luxurious coastal retreat with a privately owned 25-acre Blue Flag beach, impeccable service, fine food, superb spa facilities and breathtaking views across one of the world's most beautiful bays. Fast forward a few hours and and they were in my diary whoooo!!! Louise is also a wedding photographer ( no pressure ) So I had a feeling this was going to be pretty much about everything I love about a wedding day. Relaxed , intimate , real and genuine vibes!
Carbis bay has this magical glow , if youve been nefore then you will know what I mean. the sand is golden and the water is the most saturated turqoise colour , its so peachful and from the upper deck of the hotel is the perfect spectator spot to enjoy everything that St ives is about. There are 12 licensed ceremony spots across the Carbis bay hotel , each quirky and idividual. Louise and Alexander chose the lower deck , a toe dip away from the sand and arguably the best view of the beach.
Louise wore a grace loves Lace bohemian dream gown by day and sparkly number from asos by night. They were both perfect and contrasting! Russell and Bromley white leather sandles with a gold simple buckle were the shoe of choice and everything was just ....well...perfect!
Amara hair and makeup and Danielle robinson mua both played their parts in making Louise look even more beautiful on her wedding day and Flowers of cornwall were chosen for all the blooms.
If you wnat to know more about how I can capture your wedding , just say hi