Gemma and Justin - Somerset wedding
(Posted on 27/12/17)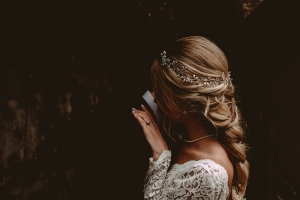 Have you ever just walked into a building and melted, as in your knees became quickly giddy and then the top of your tummy suddenly filled with butterflies? Brympton House can do that to a person. Its tucked in, nestled deep within the country in beautiful Somerset.
It was spitting outside as I opened my car door to breath in the southern fresh air. Not that the rain detracted from the beautiful building at the other end of the driveway. I spun round, car door still wide open and my seat getting quite saturated. Brampton House was , IS breath taking!
I scrambled my gear together and hurried my pace somewhat eagerly down the driveway, there were so many beautiful doorways, flower vines, arches and history to lose ones self in. Snap back to reality 'Gemma' I needed to find Gemma!
NOW THEN! I lept up the stairwell leading to Gemma , and she gave me the biggest hug ! I love a good cuddle! Not a scrap of makeup on and somehow this human just glowed and...glowed...and glowed!
Quick intro to the bridesmaids and I'm off to see the Justin with ushers and i step into this amazing hallway with an open roaring fire , the smell of out , and hot wood , smoking away. A room thats walls are adorned with these beautiful rams skulls and Justin , looking slightly excited slash nervous! He was a very funny man. On edge a little as was I at this point with utter overwhelming excitement and he trying to see his guests arrive as I watched from a corner of of this magnificent room.
The rest is just literally the equivilant of all wedding goals , visually beautiful and emotive and you will have to keep scrolling up ;)
All the feels and love ,
Carla x